It is a known fact that Char Dham Yatra is not an easy pilgrimage that takes the devotees and pilgrims across the challenging terrain of the scenic and jagged terrain of the Garhwal Himalayas. Taking up the journey of a lifetime to the holy ancient temples of Kedarnath, Badrinath, Gangotri and Yamunotri will prove to be not only highly spiritual but also extremely challenging if not planned properly. The first step for a complete and blissful, problem free spiritual expedition is to know all the routes and ways leading up to these temples which are mentioned below: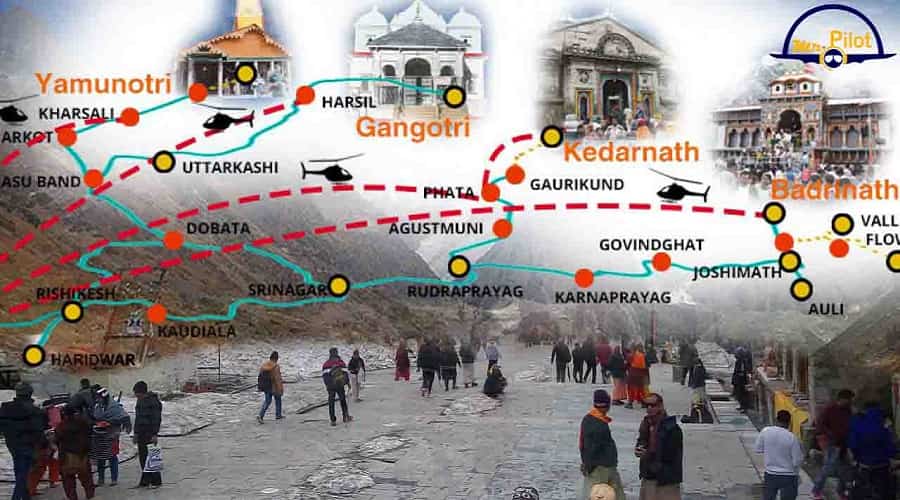 How to Reach Badrinath
Dedicated to lord Vishnu Badri Vishal is the most significant Divya Desam in India and a major part of the all India Char Dham Yatra as well. Here is how you can make your way to the temple which is not that difficult to reach in the first place:
By Air – In case you wish to avoid the lengthy road journey then you may easily opt for the helicopter Yatra journey of Badrinath. This will drop you off at the Badrinath helipad which is just a km away from the main entrance of the temple and a very convenient option.
By Road – The road for Badrinath Dham temple is easily reachable via a road journey which can be covered by a hired taxi, cab or a private vehicle from Haridwar or Rishikesh. There are several travel companies offering this service and even locally run buses also ply between these 2 places in a regular basis.
By Railway – The nearest railway station is located at a distance of 154 km at Ramnagar and 146 km from Kotdwar. From there on one can hire a cab or a taxi service heading for Badrinath.
How to Reach Kedarnath
Kedarnath is the highest Jyotirlinga in India and a very important place of Shiva worship. It is located in a very remote location making accessibility difficult but the beauty and spiritual vibe makes every step worth it. Here I how you can reach with ease:
By Air – Helicopters ply on a regular basis from the Sahastradhara helipad in Dehradun and takes around 45 minutes of flying time to reach one of the many helipads surrounding the region like Sersi, Phata, Sitapur, Gaurikund etc. from here the passengers are transferred to a chopper that will drop them off at the Kedarnath helipad located less than a km away from the main temple.
By Road – Regular buses or taxi and cab services will drop the passengers off at Gaurikund, the final road head for Kedarnath from Rishikesh or Haridwar. From here on the pilgrims are expected to either walk the way to the temple entrance or hire a pony, palki etc.
By Railway – Haridwar is located at a distance of 123 kms and the nearest railway station is at Rishikesh. From here on you may even hire a cab or a local bus ride or a shared jeep service as well which will drop you off at Gaurikund.
How to Reach Gangotri
The glistening white temple of Gangotri is also very easy and simple to reach as compared to other Dham temples in this circuit. It is not located on a very difficult location and is in fact relatively easier to reach if you follow the instructions below:
By Air – The helicopter services that ply from Dehradun lands at Harsil helipad which is located at a few kms away from the temple. On arrival at the helipad you will be required to cover the distance of 25 kms by a taxi or a cab service.
By Road – Roads leading up to Gangotri Dham are interconnected from various different places around Uttarakhand like Dehradun, Rishikesh and Haridwar. The best would be for you to get a taxi service since almost no buses ply there.
By Railway – Located at a distance of 114 kms is the railway station of Dehradun which is also very well connected to different hill towns and other Indian big and small towns as well. people can also choose Rishikesh railway station and then get a taxi from here to Gangotri.
How to Reach Yamunotri
Dedicated to goddess Yamuna this temple is perched on the edge of a cliff and its colorful roof stands out from its lush green backdrop. Reaching is also quiet a challenging task which commences from its final road head at Janki Chatti which is given below:
By Air – The nearest helipad is located in Kharsali which is at a very reasonable distance from the temple entrance i.e. 6 kms. This helicopter trip starts from Dehradun. From here people can get a cab to Janki Chatti.
By Road – The temple is not accessible via a direct road way. But one can easily reach Hanuman Chatti which is 14 kms away from the main temple entrance and a number of buses and taxi cabs ply in between the two. The trekking route can be covered on foot or with the help of palanquins or ponies etc.
By Railway – The nearest railway stations are located at a distance of 172kms and 200 kms from Dehradun and Rishikesh respectively. All these places also have very good roadways connectivity to Yamunotri temple.