The holy Yatra of Char Dham takes a pilgrim through the highly revered spiritual and religious ancient temples of Kedarnath, Badrinath, Gangotri and Yamunotri. This pilgrimage is undertaken annually by devout Hindus from all over the world who brave harsh weather conditions and other such testing conditions to make their way to the holy abode of various gods and goddess which are located on hill tops. Gracing the banks of holy rivers like Mandakini, Alaknanda, Ganga and Yamuna, a journey to these temples guarantees moksha which is the ultimate goal for every individual. However this trip is so much more than that which can only be experienced on a first hand basis. For this purpose one needs to be well versed with the Char Dham Yatra route map which is mentioned in complete detail below: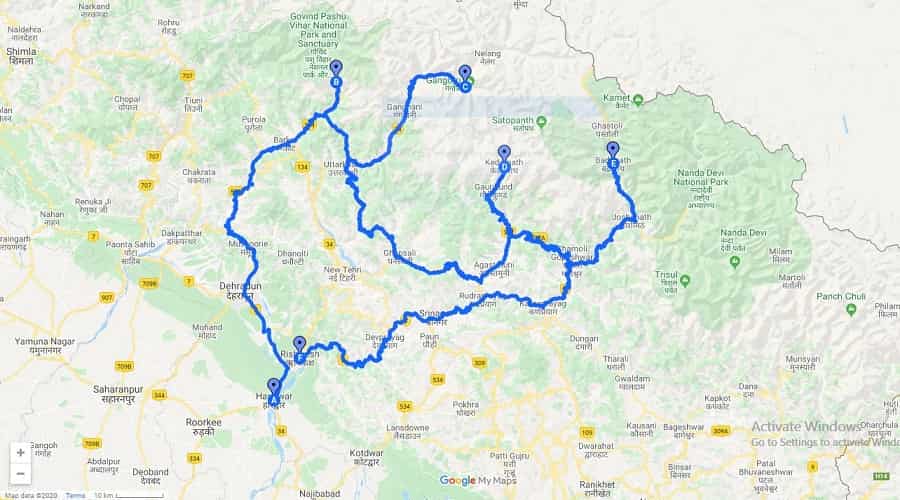 Location of Char Dham Temples:
It is a known fact that all the holy temples are located on remote locations but due to the constant efforts and works undertaken by the government of Uttarakhand roads and various other transportation modes have developed. This has made travelling much easier for the devotees who take up this journey of a lifetime. Here are the locations with distances of these holy temples:
Yamunotri Temple – 223 kms from Rishikesh
Gangotri Temple – 105 kms from Uttarkashi town
Kedarnath Temple – 223 kms from Rishikesh
Badrinath Temple – 300 kms from Rishikesh
Mentioned underneath is the detailed route map for all the Char Dham Temples in Devbhoomi Uttarakhand:
Route Map of Kedarnath
This is by far the toughest Dham to reach and requires a lot of planning and is also surrounded by a number of interesting tourist destinations of spiritual and religious significance:
By Road – One can take their private car or hire a taxi cab service from Haridwar / Rishikesh or New Delhi till the final road head in Gaurikund. The roads are well made, string and maintained. Buses also ply till Gaurikund from Rishikesh. From there on one will be required to walk up till the main temple shrine.
By Railway – The nearest railway station is located in Rishikesh. On de-boarding from the train one can easily hire a cab or a taxi service till the temple. Haridwar station is located at a distance of 215 km whereas the Rishikesh station is located 241 kms. Dehradun station is 257 kms away from Kedarnath but they do not have a lot of connectivity to other stations across India.
By Air – Helicopter services are easily available for Kedarnath along with Char Dham. There are several helipads available all around the place like Sersi, Phata, Sitapur etc which caters to helicopters from Dehradun on a regular basis during the peak tourist season.
Route Map of Badrinath
This Dham temple is relatively an easier shrine to reach since it is very well connected and located very close to the main entrance gateway. Here is how you can reach the temple easily and in a hassle free manner:
By Road – One can hire a car or a taxi or even a bus service from Haridwar or Rishikesh which will be the most convenient ways of getting to the Vishnu Dham Mandir which is located in the district of Chamoli. Private, public and traveler bus services also ply on a regular basis from anywhere in Uttarakhand.
By Railway – Just like other Dham Temples in this circuit, the nearest railway station is located in Haridwar or Rishikesh. The trains that play here are connected through a network of trains from different parts of India.
By Air – Badrinath Dham can also be visited via a helicopter journey which commences from the Sahastradhara helipad in Dehradun and is very widely available across all pilgrimage helicopter service provider online portals. From the Badrinath helipad the main temple entrance is just a km away.
Route Map of Gangotri
Home of goddess Ganga and located at the point where Ganga Mata had touched earth for the first time from heaven this temple can also be easily reached, here is how:
By Road – Just like in case of other Dham Temples Gangotri can also be reached via a very easy and smooth road journey commencing from Haridwar, Rishikesh or Dehradun and even Delhi where these services are very easily and widely available in these parts.
By Railway – One can get a train heading for either Rishikesh, Haridwar or Dehradun which cater to a number of trains from all over India making it reachable to a wider spectrum of pilgrimage travelers spread across the nation.
By Air – The helicopter services for Gangotri are also easily available with the help of any helicopter service provider company. The helipad is also very close to the main temple but not like Badrinath it does require you to cover a brief road journey after getting off at the helipad.
Route Map of Yamunotri:
Yamunotri journey is also relatively a bit tough since the final 7-8 kms of trail is to be covered on foot. For other ways of reaching till Janki Chatti i.e. the final road head is given below:
By Road – The taxis or private car and cabs that can be availed from Rishikesh or Haridwar or any other part of Uttarakhand will lead you to the final road head of Janki Chatti from where you can cover the remaining distance on foot or via the Palki or pony services.
By railway – the nearest railway station is located at the gateway to the Char Dham Yatra i.e. Rishikesh or Haridwar. The trains here ply from various parts of India making journey very easy and convenient for the pilgrims at the very low rate.
By Air – The nearest helipad for Yamunotri Dham temple is located at Kharsali. People would have to book a public or local transportation services to get from Kharsali to the main temple shrine of Yamunotri after covering a trekking trail journey.
Chardham Route from Delhi
Delhi to Haridwar – 210 km
Haridwar to Barkot – 220 km
Barkot to Yamunotri – 36 km
Barkot to Uttarkashi – 100 km
Uttarkashi to Gangotri – 100 km
Uttarkashi to Rudraprayag – 180 km
Rudraprayag to Kedarnath – 74 km
Rudraprayag to Badrinath – 160 km
Badrinath to Rishikesh – 297 km
Rishikesh to Delhi – 230 km