Vaishno Devi Yatra in Jammu and Kashmir is an extremely highly revered sacred Shaktipeeth pilgrimage in India. Surrounded by scenic natural beauty the journey to Mata Rani Ka Darbar i.e. the holy cave shrine is a journey which every devout Hindu and devotee of the goddess makes sure to undertake. People often team up this holy visit with a wonderful sightseeing in Jammu and Kashmir which makes the pilgrimage worth it. However this pilgrimage on Trikuta hills requires one to be armed with complete information about that place. From the yatra registration procedure to details about newly made routes and available accommodation options here is everything to get you ready for a visit: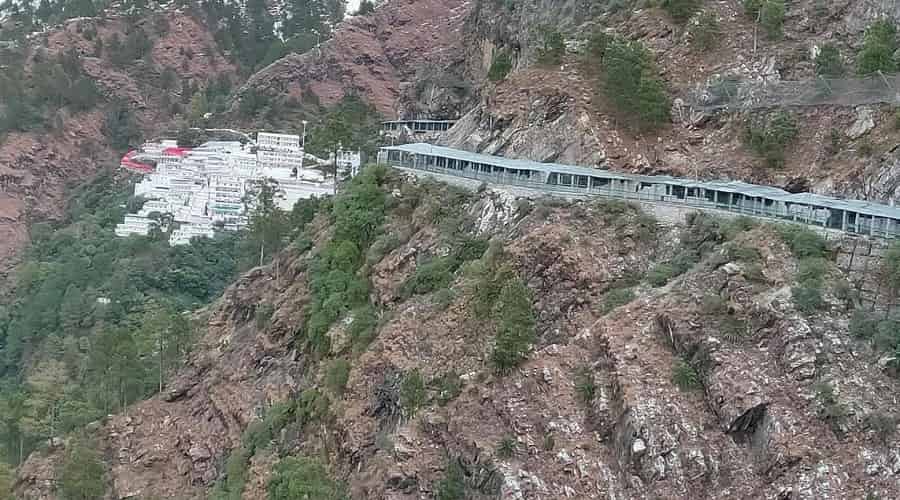 How to Reach:
The holy cave of Vaishno Devi is located in the region of Katra in Jammu and Kashmir which is very well connected through a network of transportation modes to the rest of the subcontinent. Mentioned below are a few ways through which you can easily and comfortably get to this holy place.
By Air
Located at a distance of 49 kms is the nearest airport to Vaishno Devi shrine that goes by the name of Jammu airport. It caters to flights from some major towns of India like New Delhi and on exiting the airport one can easily get a taxi or bus service heading for vaishno devi.
By Road
On reaching Jammu and Kashmir from any part of the state one can get a private car or a public bus and cab service for this esteemed yatra. The journey is very beautiful and scenic which consists of panoramic lush green vistas. From Jammu Katra is located at a comfortable distance of 45 kms. A landmark for getting a transportation is fountain chowk.
By Railway
Katra railway station can be visited reached via the train service dedicated for this pilgrimage service that goes by the name of Shri Mata Vaishno Devi Katra railway station. One can easily get an auto rickshaw up to fountain chowk i.e. Phawara Chowk and then head on for the yatra from here.
By Helicopter Package
Being an extremely holy pilgrimage yatra the government has introduced a variety of pocket friendly helicopter packages for Vaishno Devi yatra. For people who find it difficult to go to the holy cave on foot this option is the best choice for you especially for people travelling with kids and senior citizens or physically handicapped individuals. From Katra the helicopter goes up to the helipad near the cave which is Sanjichat and it goes back the same way. From the helipad a very brief trek leads up to the shrine Bhawan.
Trek from Katra to Vaishno Devi Bhawan
The main holy cave shrine is separated from Katra from a distance of 13 kms which is actually quiet a tough trekking route. Nowadays new routes have opened up for the comfort of the Yatris and to make their journey more hassle free and easy. Mentioned below are information about these routes from which you can choose: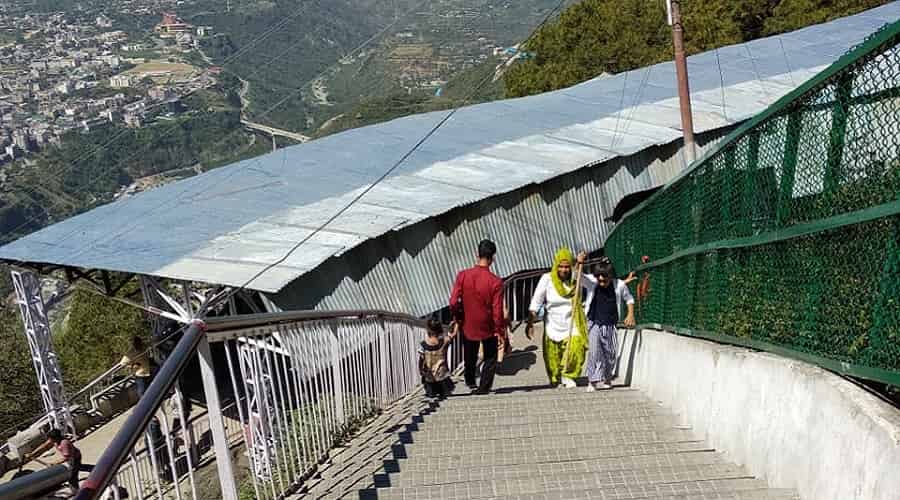 Route 1 – This is the old route which was unpaved and only consisted of a couple of stairs which was also known for being the old ancient pathway. This path contains several sharp bends, turns and is lined with a lot of rocks and dirt. It is 13 kms of trek and while approaching the temple you will be walking on tiles which makes it a lot more easier accompanied with the encouraging chanting of Mata Rani's names.
Route 2 – The new route was made with the idea of easing up the trekking journey to the holy shrine. This route remains opened 24 by 7. It is a 15 km of ascent up to the temple Bhawan which is also the only way to enter and exit the pilgrimage route. The entire trek is nicely paved, lit and covered with a roof. For a person who works out and goes on a steady pace with small stops will take almost 3 to 4 hours to cover the route.
Route 3 – This latest route or pathway is known as Tarakote Marg which was introduced very recently. The presence of this route has cut down the 13 km long trek to just 7 kms. The new route makes its way from on top of a hillock which overlooks the entire town of Katra and is made up of various medical units, shops and resting points. The entire paved route is made up of no skid tiles which makes the journey for the Yatri extremely easy and also allows you to savour in the beautiful surrounding. This route is newly opened for service and enables a hassle free travel for trekking pilgrims.
Yatra Registration Counter
It is vital for the pilgrim or Yatri to get themselves and people who are travelling with them to get registered for the journey. If you don't happen to get online registration then you may easily get this important process done at the yatra registration counter which is present near the bus stand or at Katra railway station. This particular service is free and very easy. At the counter you will be required to tell your name, hometown and get a photo clicked that will be printed out along with the pass or a Parchi. One needs to carry this religiously and safely with them throughout the duration of their yatra. People will be required to show this Parchi at several cheque points or other places if needed.
There are several links and websites available to make this process easier so that you can get this done easily and without hassle which can be done before you even begin the journey.
Accommodation
Katra has a variety of accommodation options available at a variety of price ranges including Dharamshalas and other such government housing facilities as well. To ease the accommodation problems for the pilgrim, the Shri Mata Vaishno Devi Shrine board i.e. SMVDSB presents the Yatris with 3 different types of accommodation options which are free of cost apart from rented rooms and dormitories. The rented rooms and dormitories are available for usage if the devotees reserve it in advance.
Other Alternative Ways of Getting to Vaishno Shrine:
If you choose to go by the trekking route but are not too keen on going by foot, then here are some alternative modes through which you can cover the journey:
Palkis – This is the way in which the pilgrims are carried on a palki or a palanquin being carried by 4 bearers. The rates for this is written clearly on the walls of ban ganga which is open for bargain. Also referred to as a doli service the pricing depends on the weight of the person being carried i.e. for up to 100 kg the price will range between INR 1250 to 4,500. In case the weight goes over 100 kg the rate of this palki service goes up to INR 5,000.
Ponies / Pithoo Service – These 2 services are easily available from the starting point at Katra and best suitable for people travelling with some added or heavy luggage. It is mostly availed by people suffering from breathing / heart related issues. The rates for this service is fixed and the pony ride from ban Ganga to the Mata rani Bhawan can be anywhere in between INR 1,250 to 1,450 if carrying a baby in arms. On the other hand the Pithhoo charge from Katra and one way is INR 350 and 700 for the round trip. The rates goes on changing and altering and the procedure for booking this can be followed on easily by following the instructions.
Horse Back Ride – To further ease the troubles of trekking your way up on foot then hiring a horse back ride service is the best choice you can avail. This mode of transportation can be booked by referring to the rates on Banganga up to the Bhawan that costs around INR 760.
Auto – Another safe and easy way of getting to the bhawan is by opting for either auto or electric vehicle service. Unlike the above-mentioned modes of transportation this service commences from Adhkuwari (Ardhkuwari) to the Bhawan. The reservation for the 3-battery rickshaw car seat can be done online. The devotee can pay the rate of INR 300 whereas the return price is INR 200.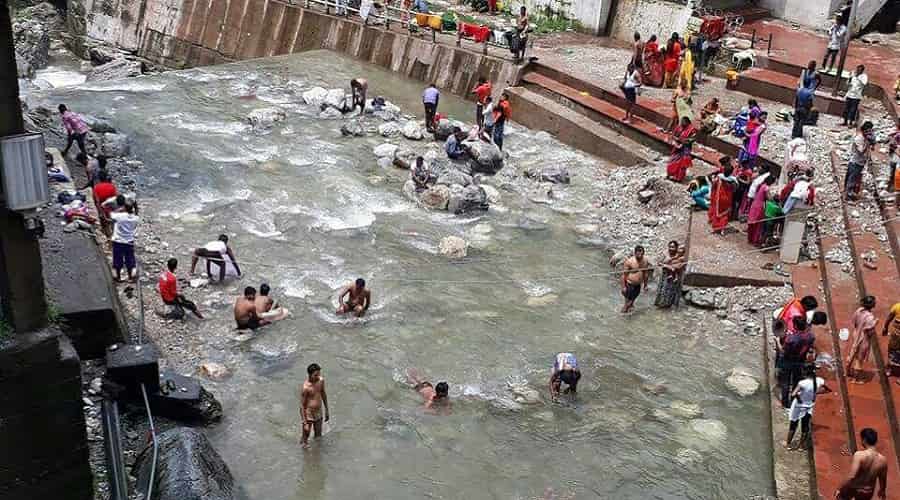 Best Time to Visit Vaishno Devi
The yatra remains open throughout the year, 24 by 7. But one should know the exact time when to visit in order to avoid any uncertain weather change. The months in between March and October are considered to be the best and the peak season for yatra of vaishno Devi pilgrimage. The weather condition around this time is cool, pleasant and very comfortable for traveling. However, the most number of pilgrims are observed during the time of Navratri.
Vaishno Devi Yatra Facilities:
The Darshan timings at Vaishno Devi which takes twice daily are 6:20 am, 8 am and 7:20 pm, 8:30 pm.
There are various facilities available en route the while path like public toilets, offering shops, stop over places etc.
Taking a bath prior to the darshan is a mandatory thing to do and for this purpose separate bathing places for men and women are made available close to the Bhawan.
Locker facilities are widely present where you can keep all your precious belonging like shoes, mobile phones and cameras (since it is not allowed inside the darshan shrine).
Bhojanalayas are present all the way leading up to the shrine which offers free food to the hungry pilgrims and are present at a no profit purpose. Other than that there are privately owned eating joints available all along the way.
There are several shelter sheds to shield you from the changing weather facility or take a short break or a breather for a while in between your walking journey.
Blanket stores are also easily located throughout the journey pathway which offers blankets at nominal rates since the night time here gets extremely chilly and cold.
There are various banks available which are private as well as nationalised in Katra. Other than that ATM facilities are also available for the benefit of the tourists. Bank branches are also present in the Bhawan complex and Adhkuwari.
Do's and Don'ts to Follow while on the Yatra
DO's:
Follow all the Yatri rules which is given out to every pilgrim and do hello your fellow Yatris if they need assistance.
The holy place is very clean and you should only dispose off your garbage in dustbins
Being a religious site make sure to dress appropriately
SIM cards only work here if they are locally bought or if your home SIM card is Postpaid. Prepaid SIM card don't work in Jammu and Kashmir.
Do keep an eye out for monkeys who are present there in very large numbers and may attack and steal eatables, prasad or even mobile phones.
Don'ts:
Do not overload your luggage, only include essentials like offerings and cash.
Articles of general use is not permitted for the yatris to carry like belts, handbags, wrist watches, purses, pens, pencils etc.
Refrain from shouting slogans from inside the temple shrine within the tunnel since it is considered as an insult.
Some regions are prone to landslides which are marked with signs so do not stand in such prone areas.
Do not litter randomly here and there and maintain a level of cleanliness since it is a holy and a very sacred place.
Do not use soaps, oils, shampoos or other such bath products while taking a shower here.
Refrain from consuming non vegetarian food items, smoking, drinking liquor, betel leaves or other such items which are considered to be disrespectful towards the sanctity of the goddess.