The holy Char Dham Yatra is a popular pilgrimage undertaken by a large group of devotees from within and outside India. Annually pilgrims flock to the holy temples of Kedarnath, Badrinath, Gangotri and Yamunotri to offer their Darshan to the holy lords and attain their moksha. Out of these the temple of Kedarnath is the one that requires the most extensive amount of planning before travelling. One should be well versed with what they might expect during their trip to Kedarnath. The foremost thing to be kept in mind is the Yatra registration that is a compulsory procedure which is to be done by every pilgrim keeping in mind the security and tracking of the devotees in case of an emergency. Mentioned below is every information you require on the registration procedure: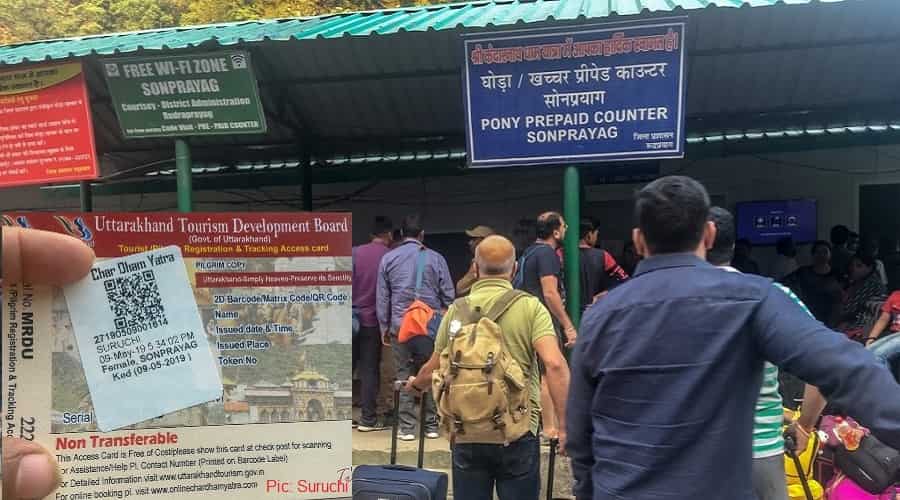 Online Registration for Kedarnath Dham:
A Yatra registration pass is something one needs to carry with them at all times during the duration of the journey. It is to be shown on checkpoints or as required by the authorities. You can easily get this done online. If you happen to book a package for Kedarnath Dham Yatra then you can fill out the form with your information and ID proof as needed. A medical certificate is also needed since this will be a very physically strenuous journey whose certificates can be easily obtained at son Prayag or Guptkashi. For registering purposes a latest, valid and updated Aadhaar card is enough for this purpose.
Kedarnath Biometrics Registration
Kedarnath biometrics registration is a relatively new initiative by the government of Uttarakhand to ensure safety and security of each pilgrim. One will be required to register themselves by providing relevant documentation, photograph and personal information like name, contact number etc. this is a very vital step to do just for Kedarnath Dham since it is prone to adverse situations resulting from unpredictable weather changes in this high altitude region. The government keeps a track through this registration and enables the Yaris to travel in a more secure manner. Being under the radar of the authorities will help the pilgrims to evade any impending crisis en route the Dham and keep them informed. If you are opting to travel to Kedarnath with the help of a Kedarnath Dham or char Dham Yatra package then the company will be responsible for getting this procedure done. So remember to speak to your tour manager regarding this.
Offline Kedarnath Dham Registration
If you have no way or access to getting the registration done online then there are offline centres available in various places like Haridwar, Rishikesh etc. who offer these facilities. They will fill out the form for you in exchange of important documentation required and allot you a pass which will enable you to take this trip.
In Case of Helicopter Package
There have been a lot of confusion regarding the registration for Kedarnath Yatra in case you shall be travelling by helicopter. One thing should be kept in mind that no matter which mode you are taking to travel to the holy Lord Shiva temple on the hills, everyone is required to get themselves registered no matter what. While booking a helicopter package the tour company offering this service will be responsible for you to make the registration happen. You will be given a Yatra pass on the helipad from where on it is to be in your person for the rest of your journey until it is over.
Best Time to Visit
Being situated at a very high elevation it is vital for you to know which is the best time to visit Kedarnath Dham. The summer season is when the temperature is pleasant and comfortable for travel even by foot and helicopter. This falls during the months of May to early June i.e. from summer to the pre-monsoon shower season. The monsoon months should be avoided owing to unpredictable weather conditions and harsh climate. If the winter season is not a big deal for you then this is also a good time to go when the peak tourism declines.