Tired of our daily life, in need of an adventure or the need to seek inner peace, the need to forgo of our sins and have a new and better approach to life. Then you know that Chardham Yatra is the best way to do all of this. While many people plan and go for Chardham Yatra, the only thing that they are always in need of is guidance, help and suggestions, so that they do not face any problem in what is one of the biggest religious Journey any Hindu can take on and complete.
So that is where we step in, as we provide you with the best travel tips and tricks from experienced travellers that will help you in this long and enlightening journey of a lifetime.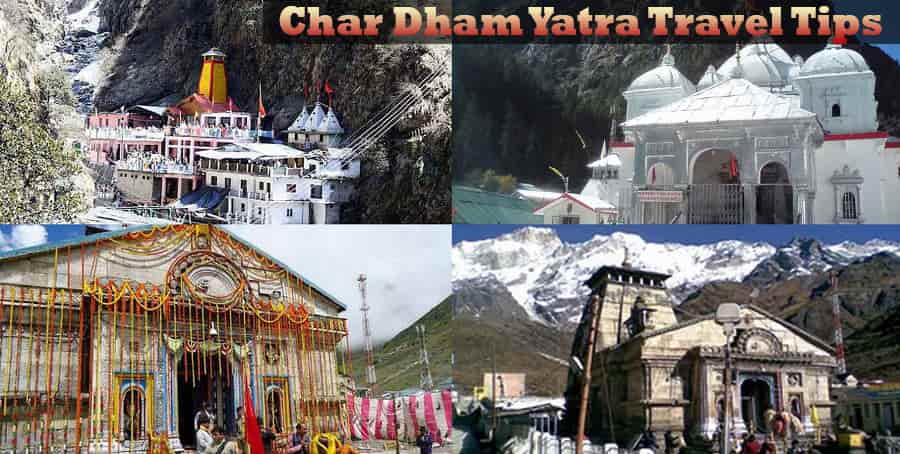 Travel Light
This is a very important tip for anyone who is traveling a lot of places and distance in general, as many people often try to carry as many stuff as they can think of. While this might help make you feel a little at home in such a long journey, it can often lead to you carrying around unnecessary luggage. A lot of luggage can also lead to loss, damage or stealing of possessions which can make your journey of enlightenment into a journey of frustration and regret.
So I guess, it's time to ditch the bigger suitcase for this one.
Keep Time to Cool Down
Amateur travelers often make the mistake of trying to do as much as they can in a small period of time. While this might work out when you are just visiting multiple cities, but not in a religious journey like Chardham. If you travel too much, leaving places in just 2-3 days, you will tier your body out on an already exhausting enough journey. This will lead you to lacking energy and enthusiasm in the most important finishing stages of your journey. It can even lead you to falling sick terribly, cutting short your trip. The sudden travel will also take away your opportunity of enjoying the place itself, leaving out the most important part of this journey, the peace and enlightenment.
So start saving up your holidays, because this isn't a short journey to begin with.
Keep yourself Focused
When you are doing Chardham Ki Yatra, you are doing Chardham Ki Yatra, nothing else. If you keep too many intermediate stops and places to cover, it will only slow you down on this long journey. You will need to keep your temptations at bay and keep your soul focus on completing this journey in the most enjoyable manner in which you can; even social media is a big distraction if you are busy on the camera outside the temple instead of being inside the temple.
Time to keep the WhatsApp groups on mute, I guess.
Booking
While you may well be prepared in every other aspect, if you don't have your bookings right, then you are far behind in the game. As the Chardham season approaches, you won't find a single hotel room free, so you need to get your bookings placed well in advance, as the prices too go way up for the rooms that are available that can bite a big part of your budget for the trip.
Booking is the key, so keep checking the net for the best deals available.
Documents and Things Required
While you might not require a passport for this journey, it is important to keep your Aadhaar and a couple of passport size photos in handy. If driving yourself, then keep your driving license and even a voter id card just to be on the safer side. With all these documents it's important that you bring some dry fruits, glucose powder, candy, honey, Kapoor balls and a significant amount of cold weather clothes to ensure that you don't fall sick in this long and tiring journey.
Like it or not, you have to get your cold clothes out this summer season if you wish to make it back alive.
Mental Preparation
While you may have prepared yourself for any and every aspect on this list, if your mind is not right, then your trip is not right. It is important that you prepare yourself on a mental level for this journey as the toughness requires a really strong will power to not quite and keep going. If you decide to go for a journey, then it's better if you read a bit beforehand about the difficulties that you might face in the journey and not get any sudden surprises.
Calling Facility
If you are going on this journey, then be prepared to be cut-off from the internet. While BSNL and JIO are pretty good in connectivity, the other networks post-paid are too on the better side. The post-paid Sims are not that good and at higher altitude, even BSNL and JIO refuse to work. So, if you are someone who love their internet then this journey could very well test you in ways you might not be prepared.
Children
Children can often be a handful on such a journey, as they are dependent on you for their well-being. The conditions are going to be pretty harsh, and definitely not something that children, especially the young ones, not like. So take the children only if you have no other option and no one to leave them with. And if you do take them remember to take as many children medicines as you can, and keep them covered up as much as you can.
Health-Care
The harsh weather can be hard to deal with, on both the young and the old. The path leading to the Chardham is though filled with hospitals and clinics, small and big. With even NGOs working hard to ensure that no one faces any problem due to in-accessible health-care. You can check Google and possibly create a list of hospitals and where they are to ensure that you have everything in order for the trip.
Safety
The journey is long and hard, and filled with a lot of con-men who ensure success out of magic. So it is best to ensure that you stay clear of all such non-sense. Also it is advisable to ensure that you don't eat or stop at an unknown place alone, prefer to stay in groups and keep on the path with others, this will keep you safe from all the problems that a lone traveller might have to deal with.
During Yatra Instructions
It is advisable to take this journey with friends or family, stay hydrated during the journey. Keep your body dry to avoid getting fungal and other bacterial infections. Don't dispose off waste anywhere and prefer to throw in dustbins or carry a dustbin bag of your own. Don't push your driver to drive fast or if you are driving fast don't drive fast yourself as the accidents are pretty common on the curvy root and are fatal most of the times. Keep some cash with you at all times, as ATMs are hard to find and rare in number.
Vehicle
It is advisable to take a vehicle that is in good shape and well maintained with off track abilities to ensure a hassle free travel. Also if you are taking a driver, then see and check if he has driven on mountainous roads before, as they are a completely different ball park all together. Vehicles with four wheel drive are the best for this long and rough journey, as they ensure that you make it through no matter what.
Food Habits
In the extremely cold weather of the Himalayas, your health could very well be defined by what you eat. Having hot water to drink can be a tough thing to find, so always keep a hot flask in handy and do eat dry fruits like resins so that you don't face any hydration related issues. Try to keep your meals simple and easy on the stomach, as the constant travel can make it hard for your body to digest and keep fresh at the same time. The weather change too can cause bowl upset, so better to keep it light and healthy.
Fellow Travellers
It is important that you make your friend circle with the correct type of travellers for the journey. It is advisable to stay clear of shady people as they could well be involved in any of the illegal activities present in the region. Your association with them could very well get you too arrested, if the police finds substances like drugs or alcohol, that can be a huge problem to get out of.
Older People
Older people often require significant assistance on such journeys. So in case if your parents or grandparents are planning a trip by themselves, then do try to take a few days out of your schedule and go with them, as whether they accept it or not, but you will be a big help to them on the biggest religious journeys of their lives.