Char Dham Yatra – the most auspicious and pious pilgrimage not only outside but also an intense journey within yourselves. The end of the journey guarantees moksha or salvation which is the ultimate liberation, the ultimate achievement of any living being. This pilgrimage will take you to some of the most challenging trips to remote and far flung places to the temples of Kedarnath, Badrinath, Gangotri and Yamunotri all of which are located within the Garhwal Himalayan ranges in Devbhoomi Uttarakhand. If you are planning to go for the upcoming Char Dham Yatra 2020, then this essential guide is exactly the thing you require. Here is all the information you need on this divine journey which will help you in any possible situation.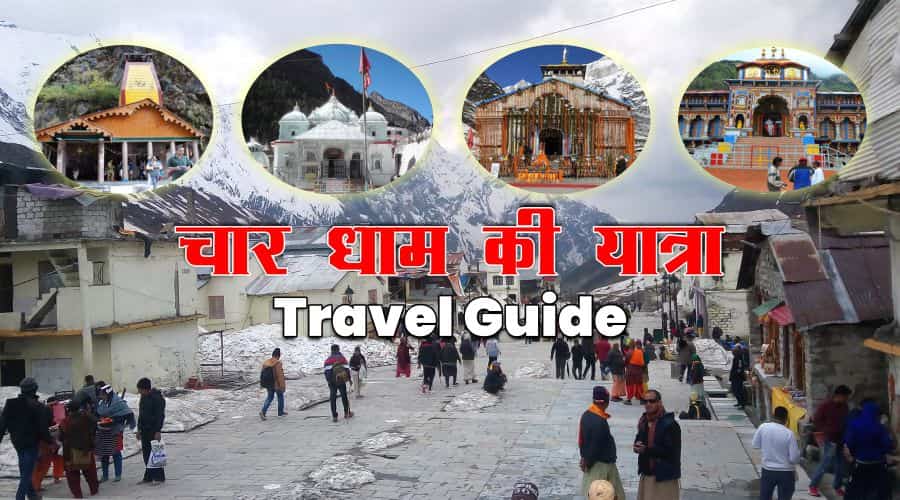 Overview of Char Dham Yatra – Purpose and Difficulty Level
The Char Dham Yatra circuit that covers the holy ancient temples on the Garhwal hills of Devbhoomi Uttarakhand. The purpose and the main religious significance of the Yatra is to attain moksha or salvation which is the ultimate liberation from the cycle of birth and rebirth. Speaking of difficulty level it sure is a challenge for people who are not physically fit. For them the helicopter Char Dham Yatra package is recommended. Being situated on high altitude especially Kedarnath and Yamunotri Dham, reaching there is quiet a difficult task but extremely rewarding in the end. However one must be prepared to face any situation and be well equipped beforehand.
How to Prepare for Char Dham Yatra
Once the package for Char Dham is confirmed you will be required to prepare beforehand for the pilgrimage. Being situated on such an offbeat region poses a huge problem but luckily it can be overcome by following these simple rules:
Start exercising at least a month prior to the Yatra. Char Dham is not just like any other pilgrimage on the plains, it requires a certain level of physical and mental fitness to make the trip with ease. Exercising does not mean just going to the gym, you may even do some yoga, walking or some other aerobic exercise for a minimum of half an hour. This will acclimatize your body t deal with the challenging high altitude situations and make the trip more fulfilling.
Do not plan in haste. The most common mistake made by pilgrims is not timing their journey according to the weather conditions. Make sure you know the best time to go for Char Dham Yatra which falls mostly during the months of May to early July. This is the perfect time for going on this soulful pilgrimage since the weather gets cleared and the temperature also rises making it very pleasant for travelling on the hills.
Still wondering on how to book the Char Dham Yatra package of your choice? While searching online you will come across a plethora of companies and tour operators offering a variety of packages for this sacred pilgrimage. You should compare them, speak to the travel experts and especially read the testimonials and reviews of the past travelers. It would be even better if you choose to go with the help of a travel operator which your friend or relative would have availed.
Know the location. One cannot just leave everything on the shoulders of the tour manager but you should know the routes that you will be following since it is the sensible thing to do. Check out the routes on Google map and even better, download an offline map just in case you need it. It will also tell you the traffic condition ahead.
Getting to Kedarnath, Badrinath, Gangotri and Yamunotri:
Here is in brief summary the detailed information on how to reach these holy places of worship:
How to Reach Kedarnath – Kedarnath Dham is situated at a distance of 207 kms from Rishikesh. One can choose to go there by a private car or a public bus or even a shared jeep service to Gaurikund and then either choose to travel by ponies or Palkis or cover the 16 km of distance on foot by trekking.
Rishikesh – Devprayag – Rudraprayag – Augustmuni – Ukhimath – Phata – Sonprayag – Gaurikund – Kedarnath Temple
How to Reach Badrinath – It is situated at a distance of a little over 400 kms from Rishikesh. It is very easily reachable via a multitude of travel options ranging from car hires, travelers, shared jeeps, buses etc. the parking area where the pilgrims get dropped off is merely located just a km away from the main entrance and everything is marked signage that will lead you to the temple.
Rishikesh – Devprayag – Srinagar – Nandprayag – Pipalkoti – Joshimath
How to Reach Gangotri – This is another one of the most easily reachable temple in the Char Dham Yatra circuit. It is located at a distance of less than 300 kms from Rishikesh and just like Badrinath it can also be reached with the help of several available options ranging from private hire cars to shared jeep services.
Rishikesh – Shivpuri – Devprayag – Gangnani –Harsil – Dharali – Gangotri
How to Reach Yamunotri –
Rishikesh – Dehradun – Mussoorie – Barkot – Janki Chatti – Yamunotri
Char Dham Yatra by Helicopter Complete Information
This service has proved to be a huge boon for the pilgrims who were initially unable to cover the journey due to some reason or the other. Char Dham Yatra by helicopter comes in a variety options created entirely for your convenience like Do Dham, Ek Dham, Teen Dham Yatra to name a few. There are numerous companies who have been functioning since a long time to provide these top notch services via a helicopter journey to these holy temples. All the packages are available at the best rates. Here is how your typical helicopter Yatra to Char Dham look like:
There Various Helipads around the Temples:
Kedarnath – The helipad in Kedarnath consists of a number of well-run helipads like Phata, Sersi, Gaurikund, Sitapur etc. the travelers are transferred to a different charter chopper from here on, as per the government rules, and dropped off at the helipad barely 500 metres to the temple.
Badrinath – The helipad at Badrinath is located at distance of merely a km. in case you are booking a chopper package for Badrinath then a cab will transfer you to the temple entrance.
Gangotri – The Gangotri helipad is located at a distance of 24 kms in Harsil. A cab will be dropping you off at the entrance of the temple in Gangotri Dham.
Yamunotri – The helipad of Yamunotri is located at just a distance of 7 km from Janki Chatti the last road head for Yamunotri Dham. This is covered in a cab and the remainder of the journey can be completed via an alternative way of travelling.
Best Route for Char Dham Yatra:
As a part of the ritual the holy Char Dham Yatra pilgrimage takes the devotees from east to west starting from Yamunotri goes on to cover Gangotri, then Kedarnath and finally ending the journey at Badrinath. There are many ways through which one can cover this journey starting from Dehradun, Nainital or even Mussoorie. Given below is a complete best possible route map for this iconic spiritual Yatra:
Rishikesh – Barkot – Janki Chatti – Yamunotri – Harsil – Gangotri – Sonprayag – Gaurikund – Kedarnath – Joshimath – Badrinath.
This will take a minimum of 11 to 12 days, give or take a few days. The roads are well made and maintained but should be avoided during the monsoon season.
Essentials to Carry during the Pilgrimage:
The Char Dham Yatra is not a simple holiday or a vacation on the hills, it is a very challenging journey that takes you through the jagged terrain, touch situations and unexpected weather changes. Given below is a list of essentials which will guarantee to make your trip totally worth it and simple:
Medical Kit – This should be on the top of your list for things to not overlook, include things like anti fever, anti-cough and cold medication, pain relievers, sunscreen, anti-diarrhea medicine. If you are prone to it then carry medication for vertigo and motion sickness. Keeping that in mind you must consult your doctor and tell him about your travel plans on the hills. Make sure you are not physically restricted to do the trip.
Clothing – Since by now you know the gravity of the situation and the difficulty involved in completing the trip remember to bundle up in a lot of warm layers and winter wear. Make sure that you are not losing your body heat and cover especially your fingers with the help of warm gloves and toes with warm thermal pair of socks. Carry accessories like muffler, monkey caps, sunglasses, thermal inners and more. Be sure that the quality of these pieces of clothing are top notch preferably made out of fleece material which can also be acquired in very reasonable rates. On a different note, be sure to invest in a good pair of shoes for walking and travelling purposes.
Documentation – Remember that each and every yatri availing this service should get registered as a yatri in order to get a yatri pass. This pass is issued in the interest of the government of Uttarakhand who issue these passes to keep a track of the yatris and maybe avoid any sort of a difficult situation that may cause destruction. One would be required to show this pass at any of the many checkpoints available in case the need arises. Apart from this document the yatris are also expected to carry a valid and latest identification proof.
Frequently Asked Questions:
Here is a set of some of the most common questions our travel expert have been asked by the Yatris opting to go for Char Dham pilgrimage: